API Seal RED (Re-Mastered Engineering Design) offers a variety of mechanical seal products for use in pump sealing applications, agitators and other shaft driven mechanisms. We offer materials based on specific applications and working conditions that is suitable for good quality pump sealing performance. We also offer pump repair and sealing conversion from packing to mechanical seals.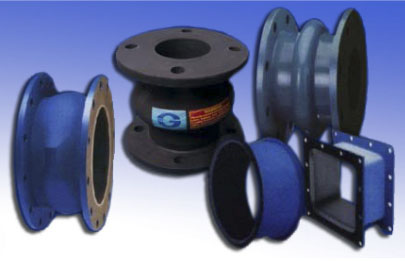 API EJ 101 type expansion joint made of
precision molded synthetic rubber and nylon
tire cord for flexibility and durability. It is
corrosion resistant and easy to install.
Industry standard design

Multiple or filled arch available

Fabric/ rubber/ metal reinforced

250 to 400 degrees F

Full vacuum all sizes and FF

High/Low pressure available

Offset designs available

Normally available only for 150# and 300# flange
API EJ 201 Floating Flange
Fabricated metal flanged type expansion
joint with floating flanges that can be rotated
to accommodate torsional misalignment.
Floating flange design

Fabric/rubber reinforced

Sizes to 12" ID

Compensates for torsional offsets/ movement

Molded bellow

Nitrile tube neoprene cover
Flue Duct Expansion Joint has excellent
ability to absorb vibration and noise and
compensate for movement between the flue
Round, rectangle, square design

250, 300 and 400 degrees F

+/- 3 psi

Flanged or belt type

Rubber/fabric reinforcement

Small and large diameter

Open ended or continuous
Chemical Resistance

Fabric/rubber reinforcement

Spark Tested

High Pressure design

300 degrees F maximum

Lightweight

Greater movement

Sizes up to 20" ID
API EJ 501 Tapered Spool Design
Utilized to connect piping of different

diameters Concentric – center line of pipes remains the same

Eccentric – center line of pipe changes, one side remains flat

250 to 400 degrees F standard

Full vacuum

All sizes (FF) available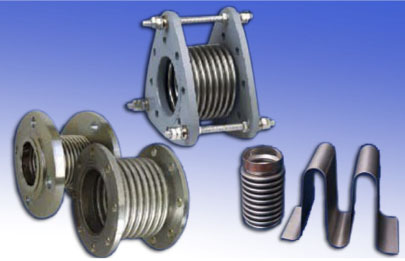 Metal Expansion Joints covers any application where Fabric and Elastomer Expansion Joints are not suitable, mainly due to pressure conditions. As for all products the focus is on superior quality and special design solutions. The Metal Expansion Joints are designed according to either EN14917, EN13445 or EJMA.
Standard designs are Axial-, Lateral-, Angular- and Universal Expansion Joints, in materials of stainless steel or titanium. The circular designs come in standard sizes from a 50 mm diameter up to 5000 mm diameter. Pressure range from -1 to 250 Bar depending on diameter. The rectangular designs are manufactured with rounded, single or double miter corners. The expansion joints are manufactured as single or multiply bellows and can be combined into double expansion joints (Universal). The joints can be fitted with tie rods, hinges and other accessories if required.
Customized designs include pressure balanced expansion joints as well as a complete range of penetration for boiler tube outlet service.
Design calculations are carried out according to counting standards and can be documented by optional testing procedures.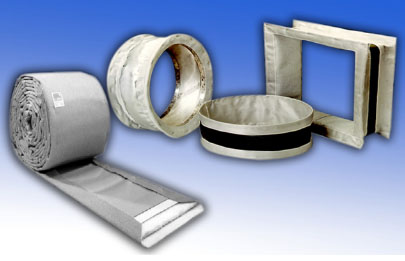 API offers a series of standard types of Fabric Expansion Joints along with a numerous of special designs. Custom made Fabric Expansion Joints are available in all sizes and shapes for any application – from single bellows for ventilating systems to highly advanced multilayer expansion joints for gas turbine exhaust (see below). The common factor is always the craftsmanship, the use of superior materials and knowing their forces and limitations.
The manufacturing range of Fabric Expansion Joints consists of 26 standard types divided into five categories. These cover a wide range of conditions, which also can be altered to fit special needs. The temperature capability ranges from -50° C to 1000 °C and the pressure ranges from -50kPa to 50 kPa.
GAS TURBINE EXHAUST EXPANSION JOINTS
The innovative design solutions introduced with the GTX-range have been achieved through several years of in-house and on-site testing, involving intensive use of FEA-analysis. Gas Turbine Exhaust Expansion Joints are available in a variety of frame designs and fabric materials. Below you will find the three standard GTX fabric designs:
GTX-A: This fabric is used in applications that have no pressure pulses and have fairly smooth flow velocities. The design is typically used on units installed down stream of the turbine, after the diffuser sections where the gas flow characteristics have smoothed.
GTX-B: This is the most commonly used fabric design that will withstand normal pressure pulses and flow conditions. A unit composed of fabric can be installed e.g. at the bypass outlet sections or after the dif-fuser sections.
GTX-C: The GTX-C design is recommended for heavy-duty gas turbine exhaust applications where high-pressure pulsations with turbulent flow conditions exist. For an optimal GT solution our well proven frame designs ensures long life time.